Conversa Online Spanish Workshops
Conversa's online Spanish Workshops are a great way to practice your Spanish and further strengthen your ties to the Spanish-speaking community. Here's what you might like to know:
The Online Spanish Workshops:
15 to 25 workshops and activities hosted every week
Several formats (conversation, grammar, reading, and much more...)
Different activities for different levels, beginner through advanced
Most workshops are 50 minutes long
Get notified of upcoming activities
Easy to attend
The Cost of Online Spanish Workshops:
$30/month for students not currently enrolled in one-on-one classes
No cost for enrolled students
There are several formats for the workshops, and we do our best to vary the target levels and schedules, such that every one of our students has at least a few good workshops to choose from every week - meaning, that the activity is of interest, the level is appropriate, and the schedule is do-able.
To make our workshops even better, there's no cost for attending if you're a current student. Simply pop into the campus to see what's going on. Better yet, set your notification preferences so that you can get an email letting you know when the next workshop is scheduled.
Adding to the experience, Conversa's Meta-Campus is a great place to connect with our team, as well as with fellow Conversa students. Not only does the meta-campus serve as our venue to offer the workshops, it's where our community comes together to enjoy our Spanish journey.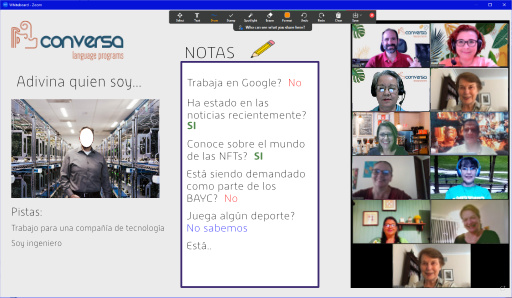 Let the Adventure Begin!
Sign-up for a free trial lesson. The best way to get to know our online Spanish program is by experiencing a one-on-one lesson firsthand. Schedule your Spanish lesson today!

Sign-up for a trial lesson!