Spanish Training for Your Organization
Empower your team, helping them reach the Spanish fluency they need to best support your business. No matter the size of your company, Conversa's programs can be tailored to provide the Spanish training for your organization in a way that best suits your needs.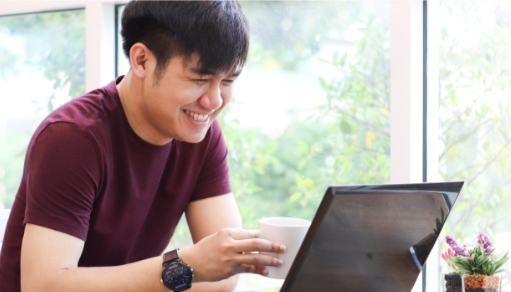 How Our Online Spanish Program Works for Your Organization
When we first get started, the primary objective is to understand your company's language acquisition goals, budget, and timeline. We'll then design a training program that adjusts to accommodate these different factors. Conversa can offer private Spanish instruction (one-on-one), group instruction, or a combination of the two.
Our Academic Coordinator and our Program Director can help in determining what online Spanish model works best for your organization and help to keep track of the progress of your team. In addition, we'll make recommendations for adjustments along the way as needed.
Private Spanish Instruction for Your Team
Private Spanish instruction represents the fastest way for your team to learn the language. It allows us to tailor the program content and pace to the individual student. It also allows for the greatest flexibility in scheduling, as adjusting or rescheduling lessons is dependent only on the student and teacher.
Spanish Through Group Instruction
When teaching Spanish through group instruction, we can work with a maximum of four students per group. This option offers a less expensive alternative, while still allowing for ample participation. In this mode, all students must be at a relatively similar level for the group dynamics to be successful.* Additionally, students must be able to attend consistently at the specified times to ensure smooth progress.
Hybrid Spanish Programs
Often companies choose to combine private online Spanish instruction with group sessions to maximize participation and engagement. This allows students to move forward with their programs through their one-on-one classes, while reinforcing what they learn and building fluency and confidence through group sessions. Some organizations also opt to offer certain employees the option of private instruction, but perhaps only group instruction for others. This is part of the design phase when beginning the program, and can be revisited as needed.
Conversa's Virtual Online Spanish Campus
Structured Spanish classes for your organization, whether through private or group instruction, are enhanced by our faculty, staff, and student community. Through our online Spanish campus, we're able to provide access to workshops, get-togethers and other supporting activities that serve as valuable complements to our academic program. Students and teachers convene on campus to gain further exposure to the language and culture, maximizing engagement and contact hours, that are vital in supporting the learning process.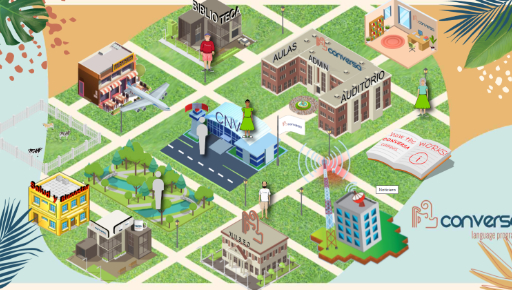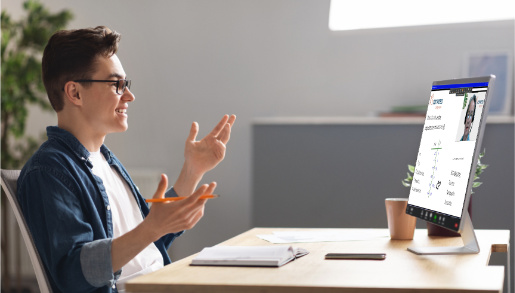 Online Spanish Program Cost
Private Instruction: $30/lesson
Group Instruction: $50/lesson *
Lessons are 50 minutes long and can be scheduled back-to-back. We recommend a minimum of two lessons per week, supplemented with workshops and/or other activities where the student engages in the language. NOTE: There is no added cost for participating in workshops. We try to offer between 15 and 20 workshops every week, varying the target level and schedules.
Why Conversa?
Conversa Language Programs has been teaching Spanish as a second language since 1975. Starting with the full immersion approach and evolving into an immersive online language program launched in 2007, we have developed a powerful arsenal of tools at our teachers' disposal. These tools, along with our proven methodology, are put to work to create a learning experience that engages our students beyond what an online program is expected to do.
But don't take our word for it. Give it a try and see for yourself. We just might be what you're looking for. To get started, email us at [email protected] or call us at 888-669-1664. We'll work together with your team to develop a solid program that's right for you and your business.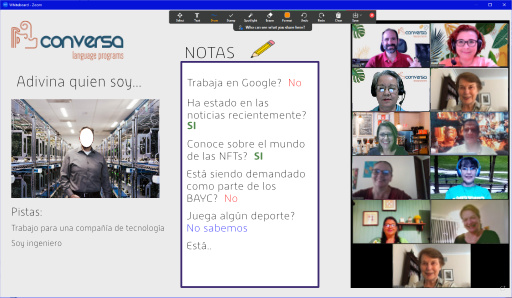 The Fine Print (Nice and big)
Progress Reporting:
Each month, Conversa provides a progress report detailing student attendance, homework assignments, time online, and workshop activity. In addition, Conversa's Academic Coordinator is available to assist your company's students, and to work side-by-side with whomever you designate within your company to further tailor the program to fit your needs.
Billing/Payment:
Conversa charges for classes monthly in arrears. After the last day of the month, Conversa provides a bill for classes to be charged. The bill contains a listing of students, along with a summary of their participation throughout the month. The bill can then be paid with a credit card kept on file, or via bank transfer.
Cancellation Policy:
Private Instruction: If a class is cancelled before 5:00 PM Eastern time the previous business day, there's no charge. Classes canceled after that will be charged. Conversa will always try to help students reschedule a class to avoid cancelling, as it helps the students' continuity and progress.
Group Instruction: Group classes cannot be canceled as cancellations disrupt the progress of the group. If a student misses a class, they're responsible for catching up. The teacher will always provide the class notes after each class. Students who miss a class can easily access the materials covered.